---
209P-ids 2014: prediction of activity
to the list of predictions


---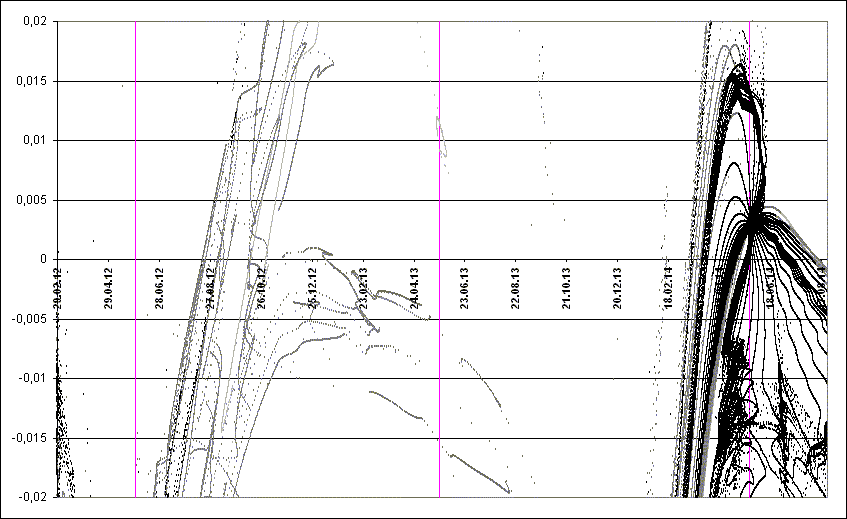 Fig. 1. Space-temporal projection of 209p-ids trails parts onto their minimal distance passages dirung the period (correspondence between colours of the particles and their ejection velocities can be seen
here
).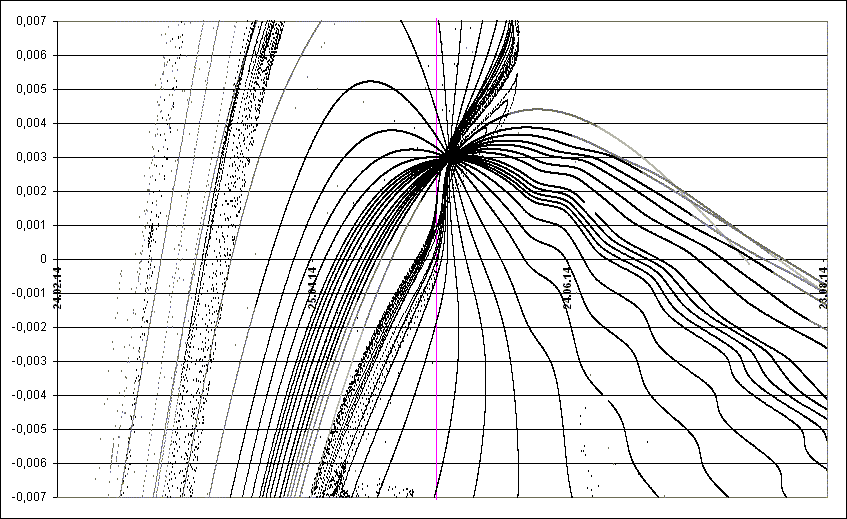 Fig. 2. Detailed space-temporal projection of 209p-ids trails parts onto their minimal distance passages in 2014 (correspondence between colours of the particles and their ejection velocities can be seen
here
).
The Earth is expected to encounter a great numbet of the comet 209P trails in 2014. The main source of activity should become 1898-1919 trails, however some meteors could be produced by the earlier trails of the comet, down to 1763 trail, which is the oldest computed trail, and even earlier. The computed time of maximum acitivity is May 24, 2014, at 7:21 UT, theoretical radiant is RA=122.8°, Dec=+79.0°. It is difficult to estimate expected intensity of the outburst due to the lack of past observed cases of activity from the given comet meteor shower, as well as due to very small size of the comet itself and unknown level of its past activity. However, considering high computed density and high number of encountered trails, we can very approximately estimate ZHRex as 100 meteors. Its a very cautious estimation, and it is very possible that real acitivity will turn to be much higher. Storm levels are also far from being excluded.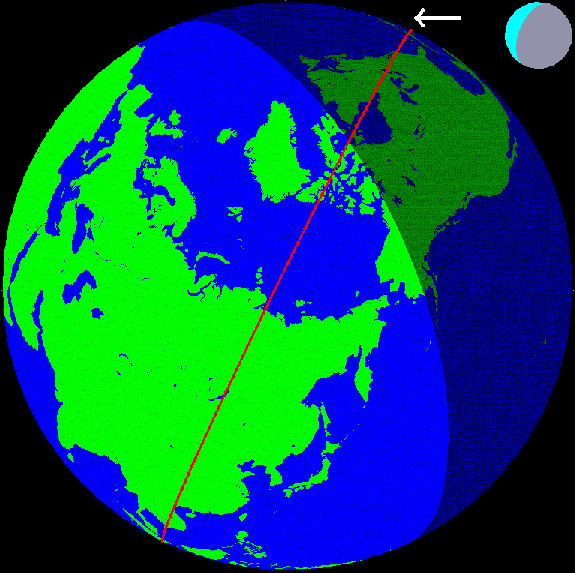 Fig. 3. The Earth as seen from coming 209p-ids meteors (RA=122.8°, Dec=+79.0°)during the peak at 7:21 UT 24 May. Red line shows the border of hemisphere where the Moon is above horizon (it is shown with in the corner of the Fig. 5 according to its phase).
As shown on the Figure 3, Canada will be the most favorable place to observe the outburst (excluding the northern territories) as well as the USA, where shower radiant will be above the horizon during the dark time. Radioobservations are also possible across all the Eaurasia, excluding only the most south regions, as well as in the North America.
This work confirms the results obtained earlier by Esko Lyytinen and connected with the possibility of 209P meteor shower acitivity in May 2014.


---

References

1. "Comet's dust 2.0" program by S. Shanov and S. Dubrovsky. [Used for orbital computations.]
2. Lyytinen E, van Flandern T. "Predicting the strength of Leonid outbursts", 2000, Icarus, P. 158-160.
3. Kasuo Kinoshita, http://jcometobs.web.fc2.com/ [Orbital elements of the comet 209P LINEAR]

---