---
Draconids 2012: prediction of activity
to the list of predictions


---
Fig. 1. Space-temporal projection of Draconids trails parts onto their minimal distance passages dirung the period (correspondence between colours of the particles and their ejection velocities can be seen
here
).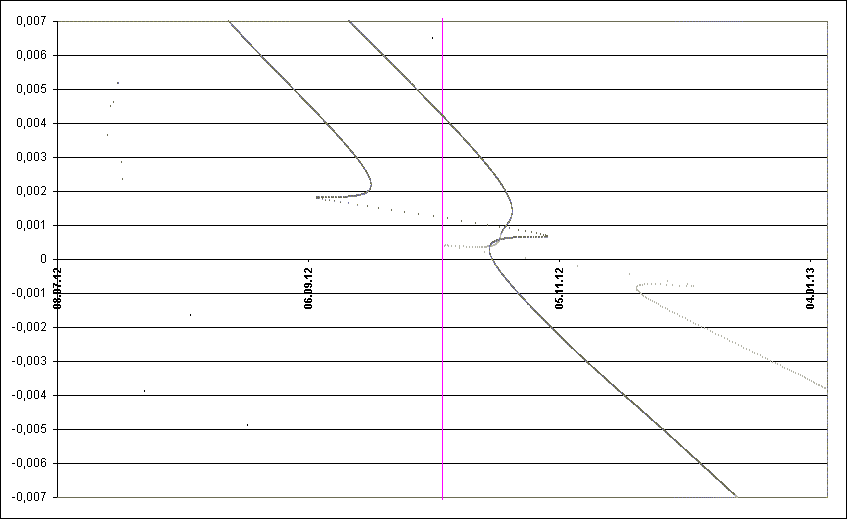 Fig. 2. Detailed space-temporal projection of Draconids trails parts onto their minimal distance passages in 2012 (correspondence between colours of the particles and their ejection velocities can be seen
here
).
---
As shown on the Fig.2, in 2012 two trails will be present in the vicinity of the Earth's orbit. These are 1959 and 1966 trails. This case is quite similar to Draconids 1999 case, when a small activity outburst with ZHR of 10-15 occured. However in 2012 the situation is much less auspicious. The closer to the Earth 1959 trail passes at 0.00121 AU (which is quite large distance actually), moreover this part of trail is perturbed by previous encounter with the Earth (in 1992) and so far is several tens times less dense than analogous nonperturbed trail. Maximum time for this trail if 16:22 UT 8 October, but any visually detectable activity is unlikely.
The 1959 trail also gives a vertical encounter with maximum time of 16:54 UT 8 October. Computed ZHRex for this enocunter is 0.5, so I expect at best activity on the level of separate meteors with very low average brightness.
Finally, 1966 trail encounters the Earth with its nonperturbed part, but it passes on the very large distanse of 0.00416 UT, that also cancels any prospects for somewhat significant activity. Maximum time for this trail - 15:37 UT 8 October, computed ZHRex is 0.2.
In a whole I could say that in 2012 we have some chances for a weak Draconid activity during the period of 15-17 UT 8 October, but it is very likely that nothing will happen. Average meteor brigtness (if anything occurs) is expected to be very low, and the aging Moon won't create any significant trouble for observers, at least in thi evening time, when the Draconids radiant is in its highest altitudes. Considering the timings given, the best conditions for checking possible Draconid activity will be on the Asian latitudes in the northern hemisphere.
These results essentially confirm the ones obtained by J. Vaubaillon, M. Sato, H. Luethen and some other researchers.


---

References

1. "Comet's dust 2.0" program by S. Shanov and S. Dubrovsky. [Used for orbital computations.]
2. Lyytinen E, van Flandern T. "Predicting the strength of Leonid outbursts", 2000, Icarus, P. 158-160.
3. Jenniskens P. Meteor showers and their parent comets, 2006, 780 p. 4. Kasuo Kinoshita, http://jcometobs.web.fc2.com/ [Orbital elements of the comet 21P Giacobini-Zinner]

---