---
Draconids 2014: prediction of activity
to the list of predictions


---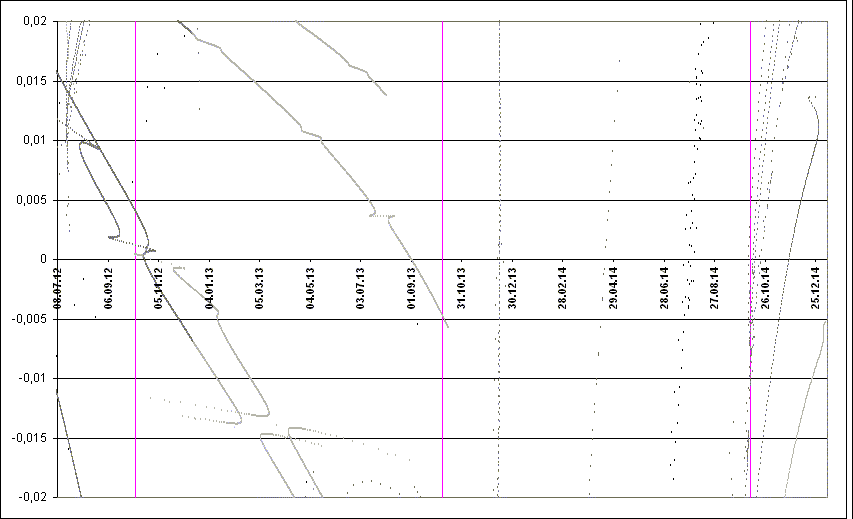 Fig. 1. Space-temporal projection of Draconids trails parts onto their minimal distance passages dirung the period (correspondence between colours of the particles and their ejection velocities can be seen
here
).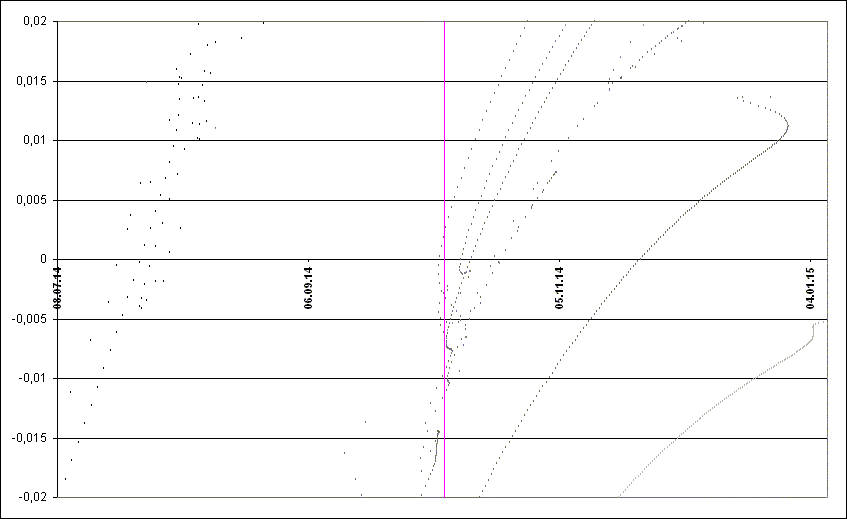 Fig. 2. Detailed space-temporal projection of Draconids trails parts onto their minimal distance passages in 2014 (correspondence between colours of the particles and their ejection velocities can be seen
here
).
---
In 2014 the Earth is expected to encounter to 1900 trail. This trail is "verticalized", and his center composed of particles ejected at the perihelion of the comet 21P, doesn't come very close to the Earth, but intersects its orbit 0.61 day after the Earth passes the point of intersection. However the particles ejected 90 days before the perihelion pass at 0.0050 AU from the Earth at 22:42 UT on 6 October.
Around this time we expect moderate Draconid activity with ZHR of 15-20 and low meteor brightness. It is possible also that activity peak will occur 1-2 hours earlier than computed time. Theoretical radiant coordinated are the following: RA=261.5°, Dec=+47.6°. It should be noted that it differs significanlty in declination from traditional Draconid radiant (RA=262°, Dec=+54°, by IMO data), shifting the radiant to the south of the Draco head to the north-eastern part of Herculis.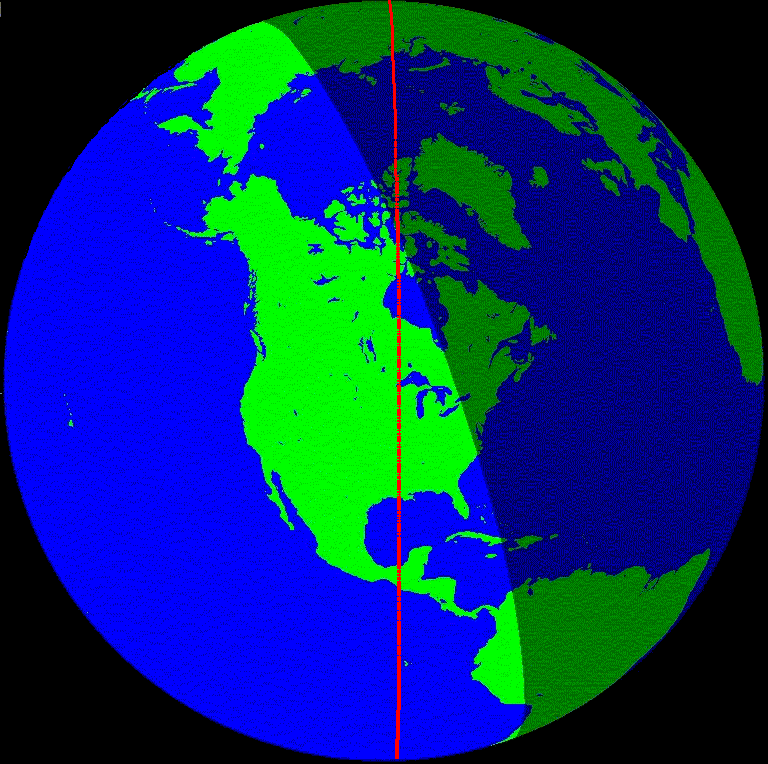 Fig. 3. The Earth as seen from coming Draconid meteors (RA=261.5°, Dec=+47.6°) during the expected maximum time of outburst from 1900 trail at 22:42 UT 6 October. Red line shows the border of hemisphere where the Moon is above horizon (the right hemisphere).
The Fig.3 shows observing condition of Draconid outburst if it occurs at the expected time. In a whole the land territoties are situated quite unfavorable for observations. The best conditions will be in Greenland and extreme north-eastern part of North America. Good condtions will be in Iceland and on Spitsbergen, satisfactory conditions - in Scandinavia, United Kingdom and Ireland. Quite high in the night sky the radiant will be in Venezuela. In Russia the radiant will be at low altitude in european part of the country as well as in Ural and Western Siberia up to the Taimyr peninsula longitude, the more to the north - the higher the radiant. The similar situation will be in the continental Europe and extreme north of Africa.
The additional worsening circumstance will be connected with the almost full Moon (phase=0.97) present above the horizon during all the night. Nevertheless, activity with ZHR of 15-20 should be notable even under the full Moon light, so this case of possible Draconid activity remains interesting for observations.


---

References

1. "Comet's dust 2.0" program by S. Shanov and S. Dubrovsky. [Used for orbital computations.]
2. Lyytinen E, van Flandern T. "Predicting the strength of Leonid outbursts", 2000, Icarus, P. 158-160.
3. Jenniskens P. Meteor showers and their parent comets, 2006, 780 p. 4. Kasuo Kinoshita, http://jcometobs.web.fc2.com/ [Orbital elements of the comet 21P Giacobini-Zinner]

---