---
46P-ids 2012: prediction of activity
to the list of predictions


---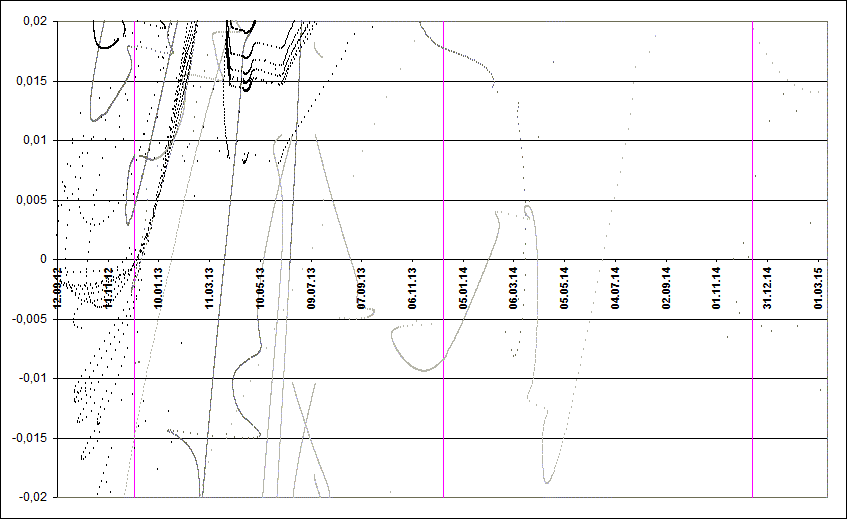 Fig. 1. Space-temporal projection of 46p-ids trails parts onto their minimal distance passages dirung the period (correspondence between colours of the particles and their ejection velocities can be seen
here
).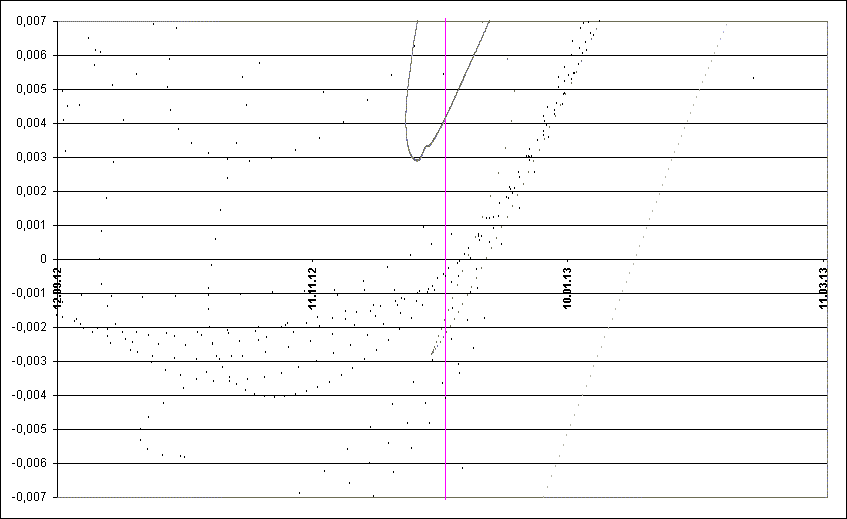 Fig. 2. Detailed space-temporal projection of 46p-ids trails parts onto their minimal distance passages in 2012 (correspondence between colours of the particles and their ejection velocities can be seen
here
).
---
Some trails of the comet 46P pass in the Earth's vicinity in 2012. These are 1915, 1927, 1934m, 1941, 1947 and 1954 trails. The most close will be 1927, 1934, 1941 and 1948 trails, they will pass at -0.00058, -0.00033, -0.00039, -0.00052 AU, respectively. Density of all these trails are very low, fM values are only 0.02-0.05. However, ejection velocities are favorable - from 8.3 to 13.7 m/s. It allows to expect some notable activity from these trails. Computed maximum times are the following: 14.12.2012 0:02 UT for 1927 trail, 13.12.2012 12:30 UT for 1934 trail, 12.12.2012 10:20 UT for 1941 trail and 11.12.2012 6:21 UT for 1947 trail. The trails are quite perturbed, so accuracy of these timings are not very high and perhaps it shows that during 10-14 December 2012 the comet 46P stream is expected to produce some activity with radiation area around RA=357.0°, Dec=+3.6°, Vg=8.7 km/s. This point is a bit to the east from stars hexagon in Pisces. The expected shower's radiant is in its highest altitude during the evening time, and its meteors are very slow. Maximum computed ZHR is 10-30 with multiple subpeaks within the given period, but this is also very unreliable value, meteor brightness is expected to be on the average level. The new Moon won't create any troubles for observation.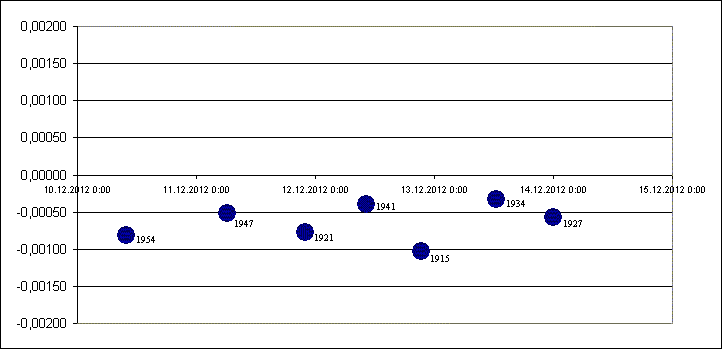 Minimum distances (in AU) to 46P trails during 10-15 December 2012.
---

References

1. "Comet's dust 2.0" program by S. Shanov and S. Dubrovsky. [Used for orbital computations.]
2. Lyytinen E, van Flandern T. "Predicting the strength of Leonid outbursts", 2000, Icarus, P. 158-160.
3. Jenniskens P. Meteor showers and their parent comets, 2006, 780 p. 4. Kasuo Kinoshita, http://jcometobs.web.fc2.com/ [Orbital elements of the comet 46P Wirtanen]

---