---
June Bootids 2010: prediction of activity

---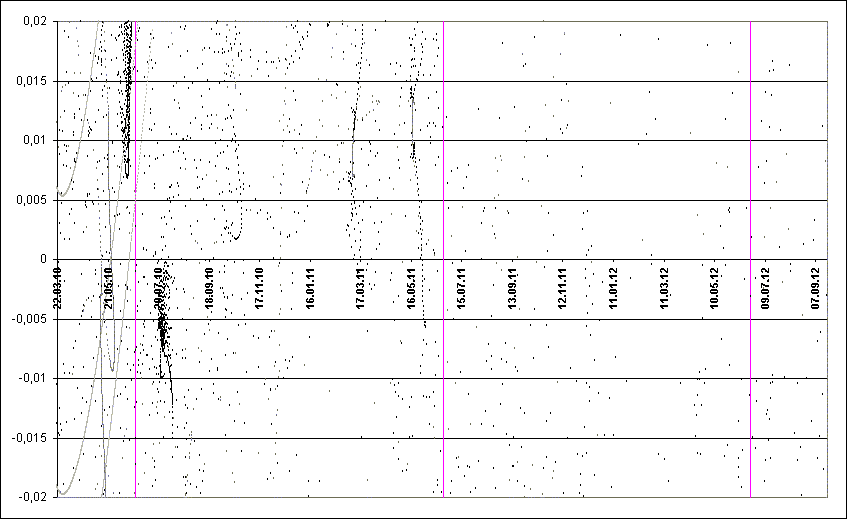 Fig. 1. Space-temporal projection of June Bootids trails parts onto their minimal distance passages (correspondence between colours of the particles and their ejection velocities can be seen
here
).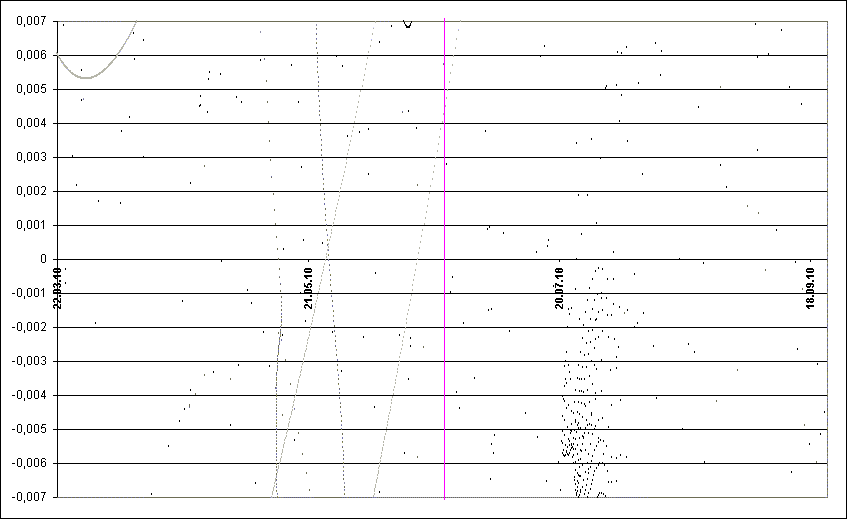 Fig. 1. Detailed space-temporal projection of June Bootids trails parts onto their minimal distance passages for 2010 (correspondence between colours of the particles and their ejection velocities can be seen
here
).
In 2010 the particles cloud which caused June Bootids activity in 2004 gets close to the Earth again. In 2004 maximum intensity of very lengthy outburst was around ZHR=30-40. In 2010 conditions are much worse and the computations doesn't show any encounters with 7P trails. So far we haven't any direct signs of possible outburst. Still, considering the resonant nature of this particles cloud we recommend to pay special attention to June Bootids this year. It can't be excluded, that some older, not computed trails are also located in that resonant area.
In other words, there is some (low) possibility of weak activity, perhaps not higher than ZHR of 5-10. The activity, if any, is expected most likely to occur on June 23 and 24, so these dates should be monitored especially closely. Also, it is known that June Bootids outbursts are very rare, so any activity level above zero is already a significant event. Observers should note that radiant of such possible activity could significanly, up to 5-10° stay away from adopted values. Unfortunately, the almost full Moon in the evening on June 23 and 24 will significantly worsen conditions for checking possible June Bootid activity.

References

1. "Comet's dust 2.0" program by S. Shanov and S. Dubrovsky. [Used for computation of stream particles orbital evolution]
2. Kazuo Kinosita, http://www9.ocn.ne.jp/~comet/index.html [Orbital elements of the comet 7P Pons-Winnecke.]
3. Lyytinen E, van Flandern T. "Predicting the strength of Leonid outbursts", 2000, Icarus, P. 158-160.

---